In this blog post, we will talk about Environment Variable caching in Power Automate, what the problem is with it and how to work around it. I have attached both a managed and unmanaged solution containing the complete flow to this post. You can find the link furthure down...
Read More
A few days ago Microsoft announced a new Feature in public preview, the Settings solution component. In this blog post, we will take a look at this new feature. I will explain how it works and how you could use it in your solution. The functionality I will explain...
Read More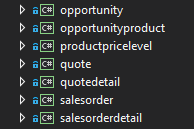 In several of my previous posts (Add Sparkle XRM to a Webresources project or Deploying Web resources or Plugins with Azure DevOps Pipeline), I mentioned Sparkle XRM for webresource deployment. I am currently in a project where we have several plugin assemblies (as I described here), one per entity....
Read More
Recently I noticed some questions coming up here and there regarding how to handle hotfixes in Dataverse. There was one community member who specifically asked whether I would have a blog post about that. So I thought it might be time to write about it. What is an Hotfix?...
Read More
As I described in one of my previous posts (Explaining "One Version" – Dynamics MDA) Microsoft is releasing two "Waves" of new functionalities and improvements per year. Today, 27.01.2021, Microsoft has published the Release Notes for the Release 2021 Wave 1. Like the last time, it is overall a quite...
Read More